No two pregnancy stories are the same. For me, I felt like nothing was different for the first six weeks and then it started to creep in – the background feeling of nausea and general "blah-ness". Morning sickness was certainly a misnomer in my experience – I actually felt pretty good throughout the day (so long as I had access to snacks!) but in the evenings after dinner I began to feel the nausea settle in and not leave until I got to bed. I never threw up but I certainly didn't feel great. Sleeping was a relief, because it meant I could sleep away and wake up feeling better again…to start the cycle all over again.
I was also going through this patch during Stage 4 Lockdown which added to my general "blah" feelings. I didn't feel great, didn't feel like doing anything and there was nothing to do anyway! I wasn't telling many people at this stage either, and I felt like I couldn't get excited yet. I felt quite closed off from everyone for so many reasons. I continued exercising during this time, and just listened to my body and took it easy when I needed to. Very quickly, it started to feel weird doing abdominal exercises and I started to notice my pelvic joints like I never had before. However, as I continued exercising in a slightly modified manner, I found that I always felt significantly better afterwards – mentally and in terms of my nausea and energy levels.
I hear from many of my patients that exercising in these first three months is the LAST thing they feel like doing and I can totally understand that! I would just say, from my own firsthand pregnancy experience, and from being a Physio, just listen to your body on a daily basis. Exercising safely has the potential to increase the good hormones and chemicals in your body that may help you feel better like it did me. However, don't judge yourself harshly and try not to compare yourself to others. For some women this first trimester can be debilitating, and for others it can be a breeze.
If you feel up for it on any given day, then take advantage of that and go for it. You may find certain times of the day are much better suited to exercising, so start to make that part of your schedule. Have snacks at hand in case you feel the nausea creep in (I sometimes walked with a few crackers in my pocket). Leaving the house may feel too daunting, so get on the floor and do some gentle yoga or pilates moves. Whatever you can muster up.
And remember, this won't last forever. You will feel better again soon. Your body is doing something new and profound. You're amazing!
Emma x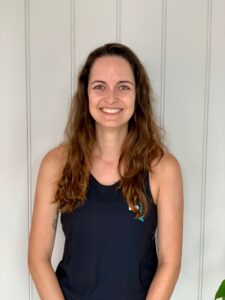 Emma Kazmirowicz, Physiotherapist